One unadvertised perk of being a university resident hall director — your dormitory can help you pull off a truly memorable proposal!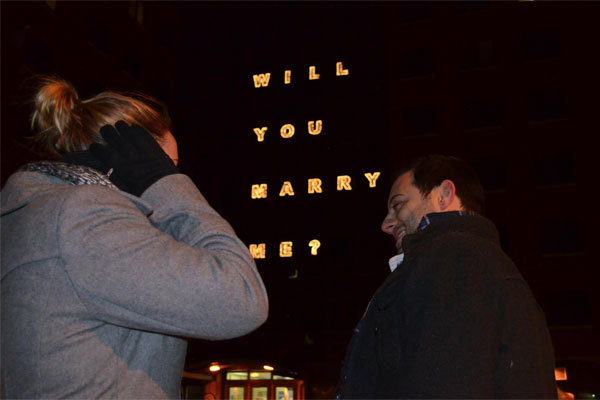 Photo via Reddit
When Frank Tierney, a resident hall director at the University of Buffalo, popped the question to his girlfriend Katelyn Illingworth in front of his dorm, "Will you marry me?" popped up in the windows of the 10-story building.
"[We] blacked out all the windows with poster board," shared Tierney's friend on Reddit. "Then we traced out letters and poked holes along them, inserting the lights into the holes."
The process took about two weeks of planning for the group of 10 friends who helped pull off the proposal.
"When he stopped her in the middle of the parking lot, he gave his speech and we all waited for the signal. When he got down on one knee, we turned each floor on in descending order with a person in the stairwell shouting to each floor when to turn their lights on."
compliments of bridalguide.com